Welcome to EdgeTX!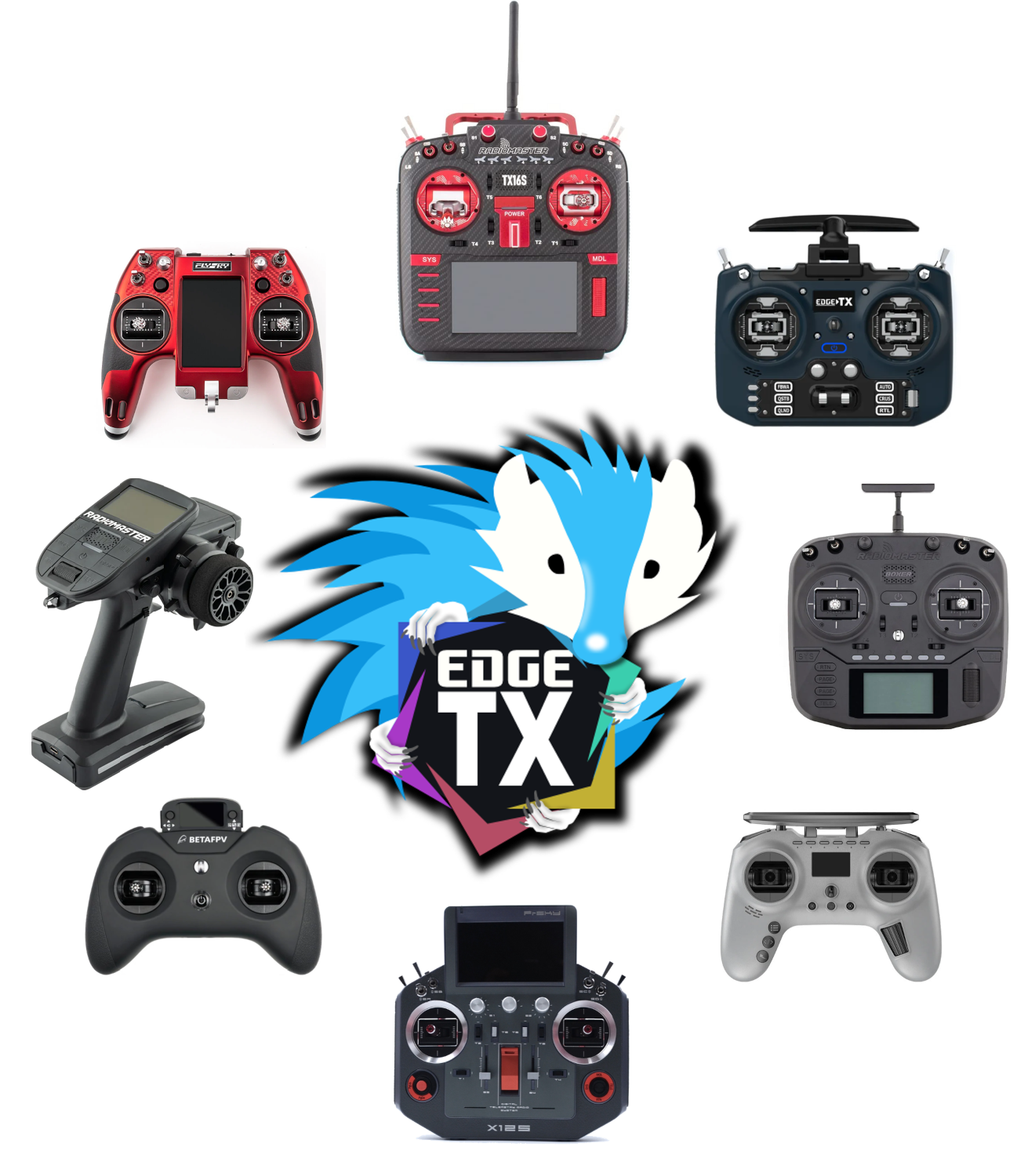 EdgeTX is the ultimate open-source RC transmitter firmware for RC enthusiasts.
Customize your remote control transmitter to match your unique preferences and needs with our highly adaptable platform. EdgeTX supports a wide range of RC protocols, is compatible with various transmitters from a number of manufactures and is the go-to choice in the RC hobby. Join our passionate community to help shape the future of RC control systems.
For more information about EdgeTX, check out the About EdgeTX page.
---
What's new¶
September 29th 2023
EdgeTX v2.9.1 released
EdgeTX v2.9.1 is now live, which fixes a few small niggling issues that may have affected some users including the black screen themes, some telemetry lost/recovered issues with ELRS, and missing mixer lines when copying models from other transmitters. Before you update please remember to backup your settings, and bench test to ensure everything still works properly before taking it out to the field. Thanks to everyone for finding the bugs and testing fixes!
For more information about what has changed, take a look at the release notes.
---
September 13th 2023
EdgeTX Fest 2023 - Celebration of our second year!
We marked the second year of EdgeTX with a spectacular 2nd annual EdgeTX Fest on September 9th and 10th. This year's celebration was even more special as we joined in celebrating the 50th anniversary of the Heideflieger Hövelhof e.V model flying club at their airfield near Hövelhof, Germany.
Attendees had the opportunity to connect with many of the EdgeTX team members and explore a diverse range of EdgeTX supported radios. The visitors were also able to see some modified radios to spawn their own creativity and we displayed stick end controls and tray setups for couple of higher end radios. Additionally, visitors got hands-on experience flying mini quadcopters, providing an exciting introduction to the RC hobby. All of this unfolded amidst a breathtaking model airshow that left everyone in awe.
We extend our heartfelt gratitude to everyone who joined us at the fest to commemorate the 2nd year of EdgeTX. Your overwhelming presence and engaging interactions made this event truly unforgettable. A big congratulations to all the lucky drawing winners! In total, thanks to our sponsors, we were able to distribute over 20 radio transmitters, close to 100 Express LRS receivers, 4 beautiful scale RC model airplanes and a large number of further accessories and merchandise to our guests.
A special shout-out to our event sponsors, RadioMaster, Flysky, Jumper, BetaFPV, FMS, and RCVideoReviews.com, for their generous contributions of prizes and giveaways. We'd also like to express our deep appreciation to the Heideflieger Hövelhof e.V model flying club for their invaluable collaboration in planning and executing this phenomenal event.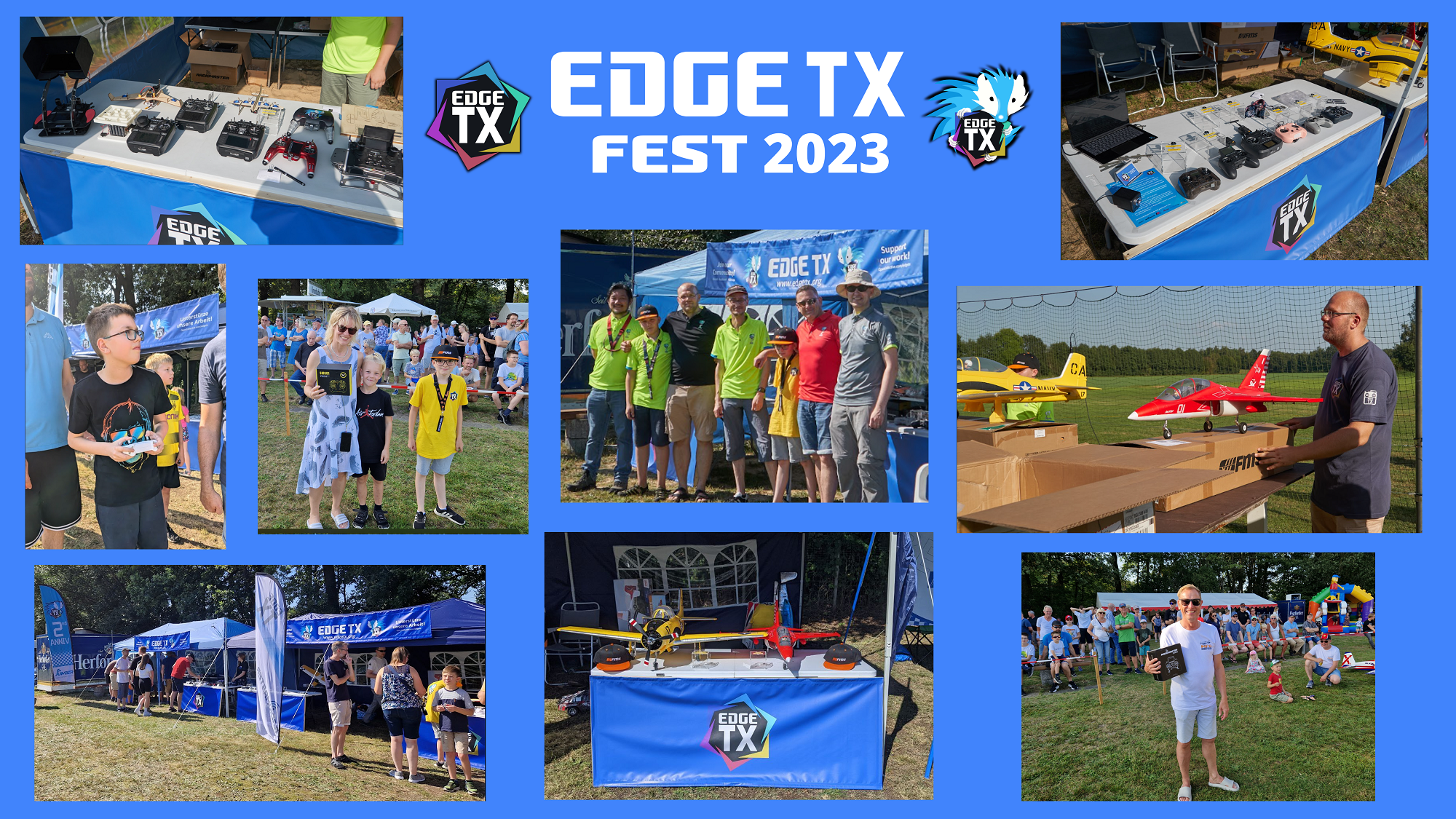 ---
September 2nd, 2023
The release of EdgeTX v2.9.0 is here!
We are happy to announce the release of EdgeTX v2.9.0! This release of EdgeTX brings many improvements to the graphical user interface and some cool new features. Check out the release notes to see all the changes.
Before you update please remember to backup your settings, and bench test to ensure everything still works properly before taking it out to the field. A big thank you to everyone who has been involved in testing the RCs, testing fixes, and generally keeping the wheels moving these last few weeks.
Just a reminder: With EdgeTX 2.9 onwards, you cannot migrate your model and radio settings from OpenTX or versions of EdgeTX earlier than 2.6 "on-radio". You will need to use Companion with a copy of the earlier model and radio settings or use EdgeTX v2.8.x to do the migration.
---
August 8th, 2023
New Releases: EdgeTX V2.8.5 & V2.9.0 RC2 now available for download!
We're thrilled to announce the availability of the latest updates for EdgeTX!
EdgeTX v2.8.5: This release is here with significant enhancements. It addresses two issues that were identified during the preparation of the v2.9.0 release candidate. These issues also impact earlier versions of ETX. Moreover, this update brings several quality-of-life improvements that streamline your experience. Explore the comprehensive list of changes in the release notes. Link to Release Notes
EdgeTX v2.9.0 rc2: We're also excited to introduce EdgeTX v2.9.0 rc2, available for testing. This iteration not only includes the aforementioned fixes but also integrates additional solutions for a smoother performance. Dive into the release notes for a detailed overview of all the enhancements. Link to Release Notes
Attention Radio Users: If your radio is equipped with different internal RF types, such as MPM or ELRS, we strongly recommend upgrading promptly. This update significantly minimizes the risk of emergency mode (EM) activation and enhances the chances of a successful recovery in case of an EM incident.
Pre-Update Checklist: Before you initiate the update, ensure you safeguard your current settings by backing them up. For your peace of mind, bench test the updated version to verify that all functionalities remain intact. This precautionary step ensures a seamless transition from testing to field usage.
We want to extend our heartfelt gratitude to the dedicated community members who reported issues, contributed to debugging, tested fixes, and contributed code. Your involvement continues to drive EdgeTX's evolution.
Lastly, please note that while the main branch and nightlies are currently considered somewhat unstable, the team is steadfastly working to enhance their stability over time. Stay tuned for more improvements on this front.
---